I started off this blog taking pictures of what I ate for breakfast, lunch, and dinner. The blog has blossomed into being much more. Not only do I share what I eat
sometimes
, but I more frequently share wonderful recipes that I have enjoyed.
But since most of you don't really get a sense of what I eat on a daily basis (don't worry, its not all cookies and quick breads!) I decided to take a part of
Peas and Crayons
"
What I Ate Wednesdays
" that I've seen pop up on numerous blogs. It's such a cute and genius idea!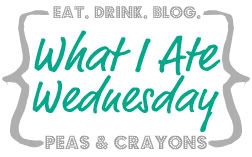 So without further ado, here is what I ate this Wednesday!
The morning started off with a delicious apple, walnut, and flax seed bread that I made the night before. Through all the little "taste tests" me and my dad had the night I made it and from what my parents ate for breakfast, this was all that was left!
I took my two slices and slathered one with a mix of dark chocolate almond butter and peanut butter.
Anyway, on the side I made myself a little parfait of plain Fage Greek yogurt layered with (local!) peach slices and topped with a couple blueberries and raspberries. All drizzled with a bit of honey (:
Okay, so I usually don't eat my parfaits out of fancy glasses like this (usually just a cup), but I decided to spiff it up for the blog :P
So instead of an egg + egg whites mixture I used just a little over half a cup of egg sub and because I didn't realize we didn't have any shredded mozzarella cheese, I ended up using a cut up string cheese stick.
I was worried about having to transfer the egg mixture onto the tortilla, but since my pan was nonstick I had no problems! I barely had to grease it all.
Cut up into pieces and plated.
The cut up pieces of string cheese almost looks like vegan cheese!
First bite...
Oh yeah. This is good!
Arg! Almost gone ):
The only thing that would put this guy off the charts would be a spread of pesto on the bottom. Yum!
I poured the batter into a loaf pan and stuck it in the oven.
I'm so happy these cookies turned out so phenomenal. Don't you love it when experimenting in the kitchen gives you fabulous results? I sure do!
32 grams whole wheat pastry flour (1/4 cup)
1/8 teaspoon real vanilla extract
1 tablespoons + 1 teaspoon white sugar
1/8 teaspoon baking powder
a pinch of kosher salt
15 grams white chocolate chips (2 tablespoons)
First, we need to brown the butter. Either do it on the stove top (heating it over medium heat until it turns an amber color) or place it in a microwave-safe bowl. If using the microwave, loosely cover the bowl with something like a paper towel and microwave for about 2 or 3 minutes (checking every now and then) until the butter has turned a nice amber color.
Set the butter aside to cool. Mix together the flour, baking powder, and kosher salt in a bowl and get out the rest of the ingredients.
To the butter, add the sugars and whisk until completely blended. Add in the egg substitute and vanilla and whisk thoroughly until the mixture is completely emulsified and slightly lighter in color. Stir in flour mixture.
Add the white chocolate chips (and whatever else you want, like perhaps a tablespoon of dried cranberries.)
Either chill the dough or separate into three dough balls (about 32 grams each) for medium sized cookies or two dough balls (about 48 grams) for large cookies.
Place on a parchement lined baking sheet and flatten a bit because they won't spread much.
Bake at 350 degrees for 12-13 minutes. They won't brown a whole lot, but they are done. Let them cool on the baking sheet for about 3 minutes before moving to a cooling rack.
You can make this vegan by using oil (but it won't be as tasty), flax seed egg, and vegan chips. I can't say how they will turn out though!
You could also easily half this recipe if you really only wanted one (true single lady) big cookie. I just don't have a 1/16 teaspoon measure (for the baking powder) so I just stuck with this amount.
Check out the size...
I enjoyed my cookie (and saved the other half of the dough in the fridge) whilst my brownies were baking.
Ah. Paradise. :D
The brownies ended up taking the whole 30 minute bake time. I took them out even though the toothpick came out a bit wet because I like my brownies a little gooey and was afraid that all that zucchini might produce a bit more of a cakey brownie.
The smells of these brownies PLUS my single lady cookies made the house smell amazing. Ahh.
Soon enough, dinner came around. I was only cooking for two of us tonight so I added two chicken breasts to a marinade of equal parts honey to Dijon mustard with a tiny splash of A1 sauce and a bit of Greek yogurt (to make it creamy).
I then cut up some zucchini and sprinkled it with kosher salt & pepper and then added a bit of Italian dressing and let that sit while I prepped my potatoes. I cut 3/4 of a pound of potatoes into wedges and sprayed them with olive oil, seasoned with kosher salt & pepper, and roasted at 400 degrees for 20 minutes. After the 20 minutes I added wedged tomato slices (of 1 1/2 medium sized tomatoes), about a 1/4 cup of homemade pesto, and a splash of balsamic vinegar. I set it to broil for about 10 minutes while I grilled everything up.
Soon enough, dinner was served!
Grilled zucchini, grilled chicken, pesto tomato and potato salad, and extra dipping sauce.
My plate-
Wow that roasted potato salad was THE BOMB. The chicken was amazing and, of course, any vegetable grilled is amazing too. Yum!
I topped it with a little whipped cream and homemade dark chocolate sauce!
I was worried this brownie would be cakey with a whole cup of zucchini in there, but check it out!
Well, it's hard to tell but these brownies were down right decadent! SO rich and delicious. The batter is super thick when I put it in the pan. So much so that you'd think there wasn't enough moisture to go around but whilst baking, the zucchini releases all of it's moisture and produces the most amazing brownies. You can't even see the zucchini anymore!
I like my milk (or milk-like products) iced, thank you very much.
I had a little fun and topped it with cocoa nibs, and instead of whipped cream I put a dollop of plain Greek yogurt mixed with a drop of vanilla extract on the side.
These brownies honestly taste just like boxed brownies. The tops might not be as pretty but who cares?! And I bet these are still much lower in fat than the boxed variety. I might try subbing some of the oil for yogurt next time, just for kicks :P
Well there you have it. What I ate Wednesday! I probably won't do this every Wednesday, but expect to see this on the blog every now and again :D
Happy eating!
<3 Carlyn