Hey guys! Here's another
What I Ate Wednesday
! All my fellow lemon lovers will love this post (scroll down to the bottom if you just can't contain yourself!)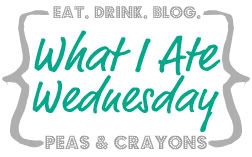 PS- I loved yall's comments on my last post. It seems like a lot of people are still trying to find the perfect cookie! Even though I have a new favorite, that doesn't mean I'm not still testing! In fact…you'll see later in this post that I tried yet another CCC!
For breakfast, I had a slice (or two) of a spiced lemon blueberry bread I made last night.
I really liked the blend of spices and the occasional juicy burst of fresh blueberries, but the lemon flavor was
totally
lost! If you're even the slightest bit familiar with my blog you know I LOVE the combination of blueberry and lemon (and just plain LOVE lemon in general. Seriously; just search "lemon" in the side bar and you'll see.) so this was a bummer. Nothing a little spread of
homemade lemon curd
couldn't fix!
I also didn't like how liquidy the batter was. Since it was so thin, all the blueberries sank to the bottom and it didn't really "dome" as it baked, leading to a rather rectangle loaf. It has great texture, though, and tastes very spicy so I think it would be good with apples or peaches, too. I probably won't make it again , but if you want the recipe just for kicks
click here
.
After breakfast and a little digestion time, I headed over to the gym. Today, I went on the stair climber, did some weights, and went on the elliptical. While I was on the stair climber and the elliptical, I read the two magazines I brought along – Bon Appétit and Health (since I was almost finished with Bon Appétit).
I thought of the interesting discussion about magazines and how they influence our ideals that
Tara
brought up on her blog (
click here to see the post
). At first, I partly disagreed with her; thinking that Health was more than what she mentioned and that it actually had some good articles and content (like recipes, interesting information, and work out ideas) but as I was flipping through the magazine I got more and more annoyed. Yes, they have some useful information, but the magazine (and other magazines similar to it) was bogged down by trying to appeal to the audience that was stuck in "diet mode". Everything was so "get skinny"! Sometimes I feel that all of these types of magazines only focus on the negative; what kind of message is that sending? Everyone should
check out the discussion
on Tara's blog (
XC Foodie
) because it's really interesting!

Oh, and that Bon Appetit magazine? I read every. single. page. I freaking love it!
After the gym I was HANGRY so I immediately heated up some leftover
Mushroom Barley Risotto
that was in the fridge.
Yeah, it looks ugly, but was so satisfying! If you're looking for a good risotto, this one is really tasty. I saw it on
Brown Eyed Bake
r and was motivated to make it since it used barley, a nutritious grain I rarely cook with. It takes FOREVER to cook, and was a bit salty so just allow time to make it and use low sodium broth!

Then I whipped up a green smoothie but since I only had a good handful left of spinach, I threw in a large handful (or two) of a frozen mixed vegetable blend that had carrots, broccoli, and cauliflower.

I also added some Greek yogurt, water, a bit of coconut extract, and a bunch of assorted frozen fruits. Oh, and half of a banana because I got TONS.
Yeah, that's what happens when you volunteer at a race (Keep Austin Weird Fest & 5k!) and there ends up being a whole truck load of leftover bananas. Hello, banana soft serve!
My smoothie was so large I had to sip a bit up from this cup to add the rest of it in!
To finish it off, I had a soft whole wheat chocolate chip cookie.
As you can see, this isn't my normal cookie type. Usually my cookies are thick and have a crisp outer layer and this one is clearly neither! I decided to try out a batch from
King Arthur Flour
that were a bit different and loved them! I'll do a full blog post about them soon because I want to make another batch with just a few changes.
These ones are soft, very dough like, and oh so yummy. The best thing is, they stay that way for days! These don't get stale and crunchy; they remain doughy all the way through. The unique ingredients like the cider vinegar, espresso powder, and honey make for a very delicious spin on the classic! They're lower fat, too!
I promise; a full post about them coming soon (:
I then hit up Sprouts for some produce that I needed for tonight and some random grocery items.
Whole Wheat Toufayan Pitas, red onion, blueberries ($1.49!), zucchini, garbanzo beans, dark chocolate honey comb, red bell pepper, and a lil bitty jalapeno (dang jalapeno set me back a whole whopping 3 cents!).
These are my favorite pitas. Ingredient list is short and they don't taste like leather. These pitas are soft and oh so tasty!
Dinner was vegetarian enchiladas that I have been wanting to make for a while. I got the recipe from
Annie's Eats
and it was delicious! Yes, a bit time consuming since I had to make the sauce and there was
tons
of ingredients I had to go buy (so it's not exactly an easy one just to decide to make on a whim) but it was definitely worth making.
On the side I made an
avocado dip
for topping the enchiladas. I found
the recipe
on
My Recipes
and made a 3rd of the batch (so that I only needed to use one avocado).
I also served cucumber slices on the side for dipping.
four
of these guys! Yes, they were small, but still! And my parents and I totally
attacked
that avocado dip...just saying.
tweet
from Two Peas and Their Pod linking to her new post for Lemon Blueberry Bars. Of course, I immedietly clicked on it, knowing that that combination is just magic waiting to happen. Then I notice I have
all
the ingredients!

Graham cracker crumbs? Heck yes! I just bought some organic graham crackers on clearance last Friday!

Fresh lemon juice? Yes! I just bought a huge bag of organic lemons last Wednesday!

Fresh Blueberries? No, but I know I'm gonna get some super on-sale blueberries at Sprouts today!

It's honestly a rare occasion when I have graham crackers, since I only buy the natural kind (or make my own) so this really was a treat that I had all the ingredients.
Plus, I always have cans of non-fat sweetened condensed milk on hand for when I want to make
Magic Bars
.

So it was set! I just had to make these bars. Like now. Yes, I still had some chocolate chip cookies left, but this was urgent!
Pure bliss.
Think key-lime pie but in lemon blueberry form. SO good! Only a bit too sweet, but that was expected with the use of sweetened condensed milk.

Changes I made:
-Used Brummel & Brown instead of butter in the crust and the crust turned out great! Saved 30 calories (all from fat) per bar. (When cut into 12 pieces)
-Used a scant 1/2 teaspoon of kosher salt in the crust to increase the sweet and salty component. Highly recommended!

Honestly the best thing EVER. I know I have a lot of lemon loving readers out there so you guys (and even the lemon skeptics) NEED to make this!! These bars would be great with any other berry if you don't have blueberries on hand. You could even use frozen, they'd just be a little uglier.

As soon as I hit post, I'm grabbing another bar!